The Unarchiver 4+
Open any archive in seconds
MacPaw Inc.
Screenshots
Description
The Unarchiver is a small and easy to use program that can unarchive many different kinds of archive files. It will open common formats such as Zip, RAR (including v5), 7-zip, Tar, Gzip and Bzip2. It will also open many older formats, such as StuffIt, DiskDoubler, LZH, ARJ and ARC. It will even open other kinds of files, like ISO and BIN disc images, some Windows .EXE installers. The list is actually much longer — see the program homepage for the full list.
The Unarchiver also tries to detect and correctly handle the filename encoding in the archives it opens, allowing you to open files from every part of the world without getting garbled filenames.
The Unarchiver aims to be the only unarchiving program you will ever need, and to stay out of your way.
Also, if you need to open archives on your iPad or iPhone, look for «Archives» on the App Store, or go to https://theunarchiver.com/archives. It is based on The Unarchiver, and lets you easily handle Archives on iOS!
What's New
Fixed:
• RAR 1.5 extraction is working once again.
• RAR 5 solid archives extraction is now working as expected.
Ratings and Reviews
Until this version 3.1.2 it was a 5 star now maybe 4
Then they had a problem with 3.11.2, which they think they fixed in 3.11.3. However there are more problems with version 3.11.3. Before the last two versions, I could choose 'Compress "some directory"' from the finder menu, and then few minutes later I could uncompress it by using "The Unarchiver". Now, randomly I get a notofication about the encoding the compressed file uses. So i am temporarily using command line tools to do the operations. BTW, there seems to be another bug that comes up if you select more than about 250 files from Finder and invoke "The Unarchiver". Then somehow "The Unarchiver" memory gets corrupted, and the menus no longer work(e.g. Quit button disappears.) and the program hangs. Have to force quit it externally. I should mention Xee 3.5.3(marketed by the same company) inherited a bug in the new release, that it can no longer reliably read .cbr and .cbz(or .rar or .zip) files reliably either. Some pages show up as noise, where as other programs(like Comic Reader). So on Xee I rolled back to 3.5.2
Poor error handling
Been using this for years. The app works fine most of the time, but when something is wrong with the archive, the app doesn't give anything resembling useful information about the error. It just basically tells you something's wrong. What's wrong? No details whatsoever other than it can't extract. When that happens, I have to turn to the unfortunately abandoned UnRarX, which has a test function which tells me what's wrong with the archive, such as a corrupted part.
Cannot deselect file formats in Preferences
I just installed The Unarchiver, and am attempting to set its preferences. When I try to deselect a file format which I do not want The Unarchiver to expand by default, it will not allow me to do so. It pops up a dialog saying «Set another app as the default app for selected file types if you wish. In smaller print, it describes the procedure to assign default applications to specific file types.
This behavior is extremely annoying. Even if I did not already know how to assign default applications, I should not be required to do so before I can deselect a file type in The Unarchiver's preferences. This behavior is enough to stop me from using the application. Please fix this obnoxious behavior. It is unreasonable.
The unarchiver для mac os
The Unarchiver is the only app you need to open RAR on Mac. It's times more powerful than the native macOS utility and supports infinitely more archive formats.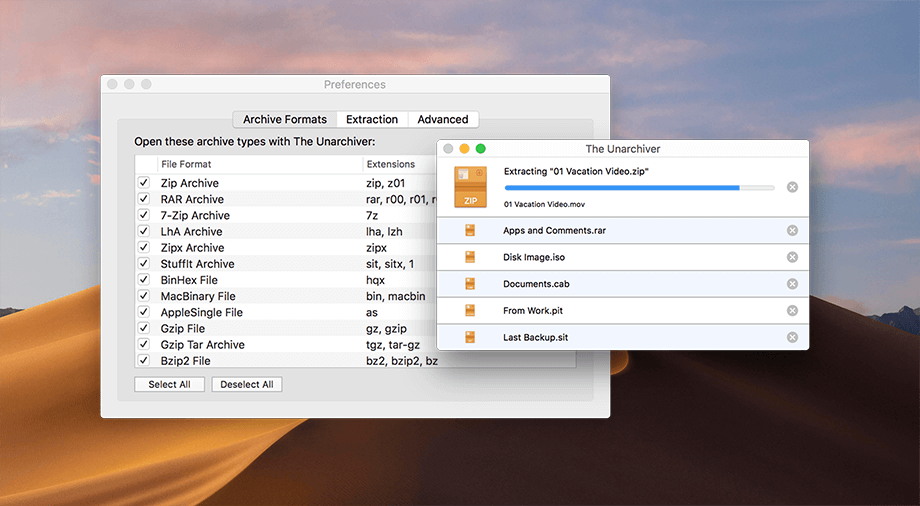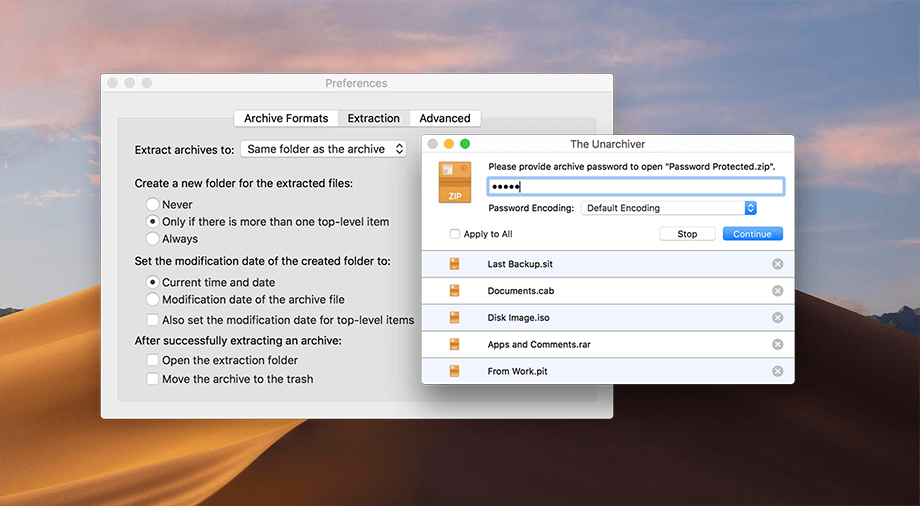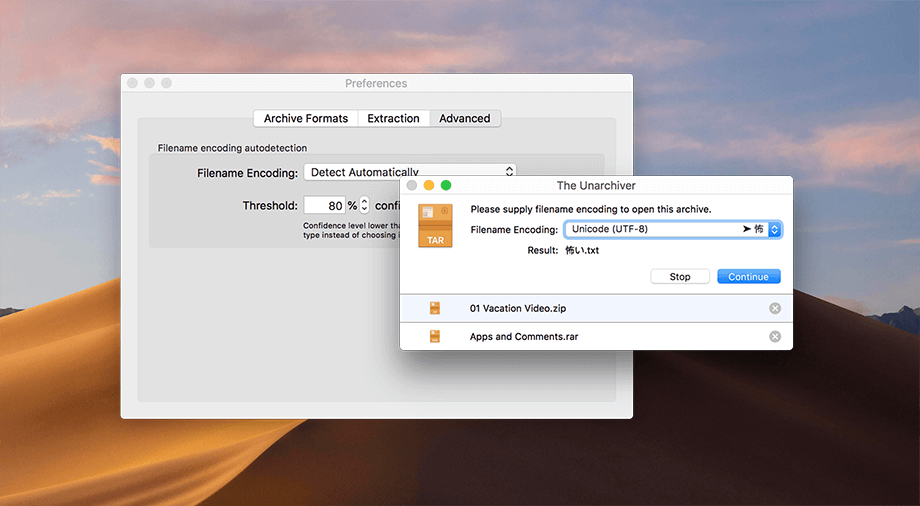 Supported archive formats
With The Unarchiver you can extract files from the following archive formats
Full support for the normal zip format, with additional support for AES encryption, Zip64 extensions for large files, Mac OS extensions of many different kinds, and several unusual compression methods. Can also extract .EXE self-extracting files using Zip.
Zipx
Full support for the new compression modes introduced by WinZip.
Including encryption and multiple volumes. Can also extract .EXE self-extracting files using RAR.
All common compression methods are supported. Also supports Unix extensions.
LZMA, XZ
Both the old «LZMA-alone» format, usually named .lzma, and the new .xz format.
This format is also used by many other Microsoft formats, meanings that you can use The Unarchiver to extract internal data from DOC and PPT files, and others. There is probably no reason to do this, but you can.
NSIS
Supports many different versions, starting from version 1.10
Many kinds of .exe self-extracting formats are supported. However, if you find one that is not, please post an issue on the bug tracker.
ISO, BIN, MDF, NRG, CDI
Most common disc images can be unpacked, both normal and raw.
Split files
Can join files named .001, .002 that do not use any extra wrapper format.
StuffIt
Can unpack all files I've been able to locate.
StuffIt X
Can unpack many files, some more obscure features are still unsupported. JPEG compression is also unsupported.
DiskDoubler
Only lacks some old compression methods, because I have not been able to locate any files using these. If you have some that do not work, please post them here.
ARC, PAK
Full support for all algorithms, including proprietary ones from PAK. Encryption only works in command-line utilities.
No support for Ace 2.0 and up (WinAce).
Can extract files from Amiga disk images using the regular FFS file system.
Can extract files from compressed Amiga disk images using the regular FFS file system.
Suggested replacement for Tar on Unix. Used in some newer .pkg files on macOS.
Linux package format.
Linux package format.
Unix library format.
ALZip
Archive format which is mainly popular in South Korea. Support for all known compression methods, including Bzip2, Deflate and obfuscated Deflate.
WARC
Internet Archive Web Archive. Request and response headers also included in metadata.
NSA, SAR
Game data file. Can unpack all files I've found. If you have ones that do not unpack, please post an issue.
Nintendo DS ROM image, which can contain a file system.
Extracts images, sounds and music from Flash files.
Extracts bitmap images from PDF files. Especially useful for scanned PDFs.
The Unarchiver Mac
The Unarchiver – это программа для сжатия файлов, совместимая даже с самими необычными и устаревшими форматами. Скачайте The Unarchiver для Mac бесплатно.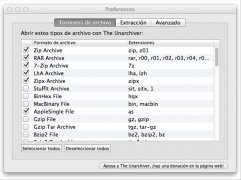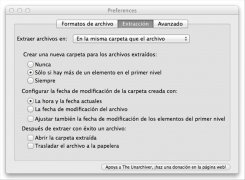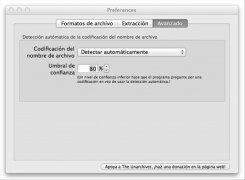 The Unarchiver – это программа для сжатия файлов, разработанная специально для Mac. Она позволяет уменьшить размер файлов, чтобы они занимали меньше места на жестком диске. Все, что вам нужно, – это сжать файлы в любом из поддерживаемых форматов.
Забудьте о других архиваторах для Mac
The Unarchiver разработан специально для Mac OS и поддерживает большее количество форматов, чем приложения, установленные в системе по умолчанию. Дизайн программы отлично сочетается с остальными компонентами операционной системы.
Особенности The Unarchiver
Поддерживает следующие форматы: ZIP, RAR, 7z, TAR, GZIP, BZIP2, LZMA, XZ, CAB, MSI, NSIS, EXE, ISO, BIN, MDF, NRG и CDI.
Также совместим с устаревшими форматами: StuffIt, DiskDoubler, CompactPro, PackIt, Cpio, ARJ, ARC, PAK, ACE, ZOO, LZH, ADF, DMS, LZX, PowerPacker, LBR, Squeeze, Crunch, XAR, RPM, DEB, Ar, ALZip, WARC, NSA, SAR, NDS, SWF и PDF.
Поддерживает файлы с иностранными символами и именами.
Учитывая, что The Unarchiver предоставляется абсолютно бесплатно, а также что этот архиватор очень прост в обращении, он становится лучшим бесплатным приложением для сжатия файлов для Mac, вытесняя стандартные архиваторы этой операционной системы.